There are several things you will not see at RHCNS. First of all, there won't be a multitude of exactly the same "art" product on the walls, especially the ones precut by adults! Here, we encourage children think for themselves, to create what's important to them. Process art allows children to express themselves using different media. Occasionally, we will have a "product," but always with specific learning goals in mind.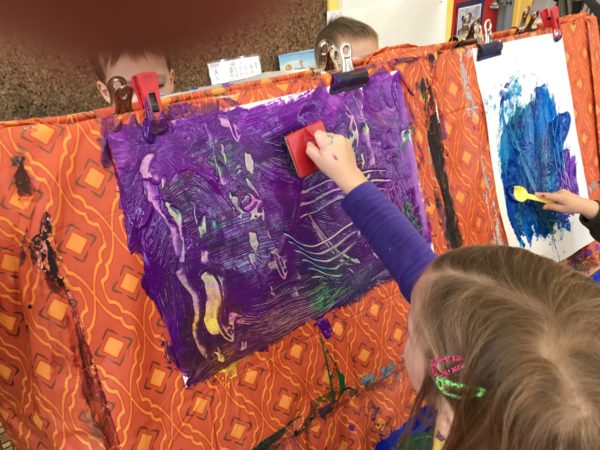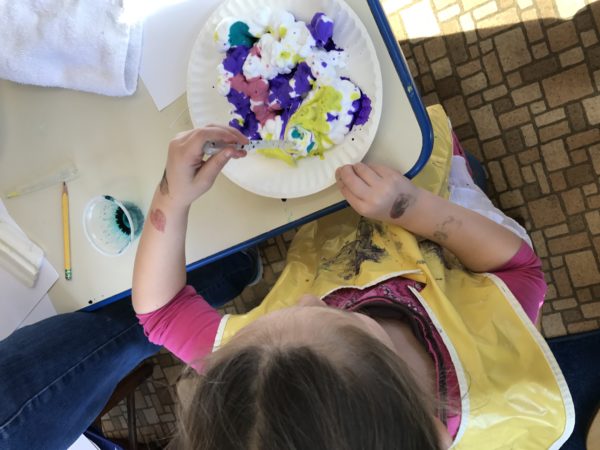 Stereotypical preschool themes. You will not see hearts all over the classroom in February, or shamrocks in March. Preschoolers are capable of so much more! February studies include the Post Office (we walk there to mail our own letters.) Since we walking, we need a map. Since we need a map, we'll create more maps. Yes, we celebrate Valentine's Day. On one day. We observe the Berry Eagle Cam. We watch for the eaglets to hatch. We create life size eagle nests. We discuss predator and prey.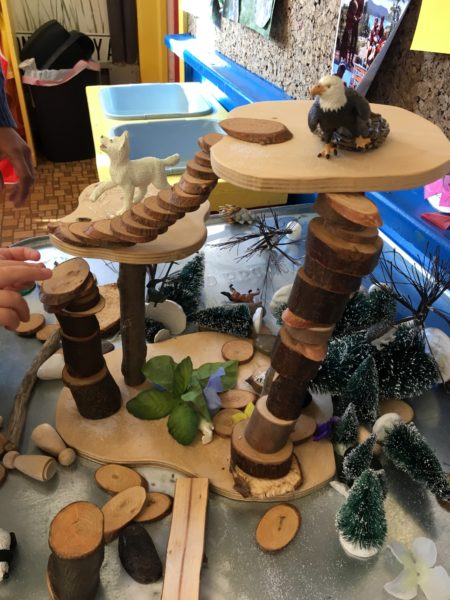 Worksheets. While we're aware that many kindergarteners will be facing worksheets, it's not appropriated to "push down" academics. If we're using a worksheet format, it's typically done with clipboards, where children can roam around the room searching for items to check off on their lists. Preschoolers need to move and explore.
Teachers who are not certified. All of our teachers have been college-educated, fully certified teachers.
One strict philosophy. We are definitely play-based. After all, that's how children learn! Experiences should be hands-on! After 36 years of teaching, I may take an idea from Waldorf, another from Montessori, yet another from a presenter at a NAEYC conference. One size does not fit all. What works for one group of children one year may not work for another group.
Children restricted to ONE center, or limits on how many children may be in one center. Your child will not be told to play in blocks, and ONLY in blocks. Children like to drift from center to center. Sometimes, you need pretend food and babies in the blocks!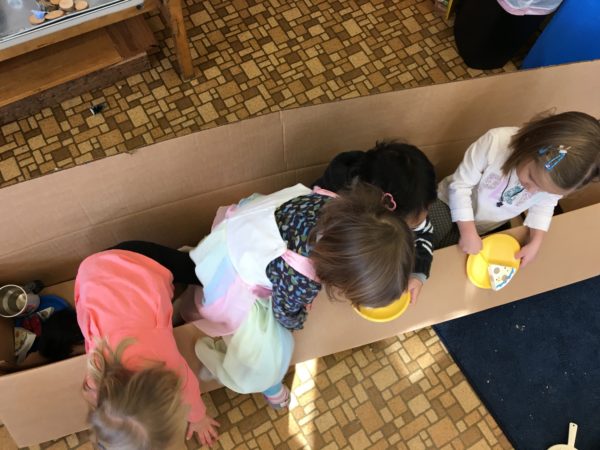 Things you WILL see at RHCNS.
Family involvement.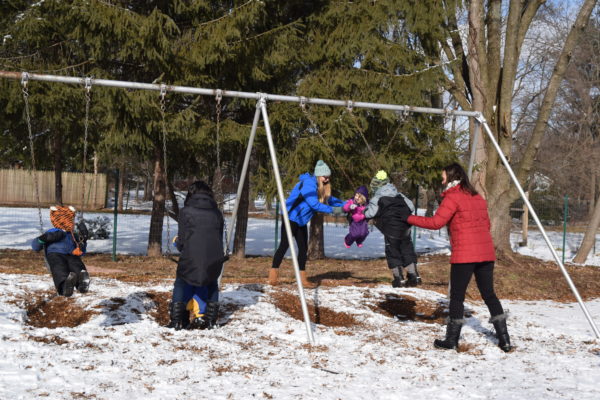 Parents and children staying on the playground after school, having lunch, talking and playing.
Parents supporting each other, sending out emails to suggest side trips on afternoons and weekends.
Weather appropriate clothes in the coatroom. We go outside EVERYDAY unless it's freezing cold (based on how it actually feels outside, not on what the thermometer says) or a downpour. Children are encouraged to have rain pants and boots during muddy conditions. Snow pants are a must. We LOVE playing in the snow!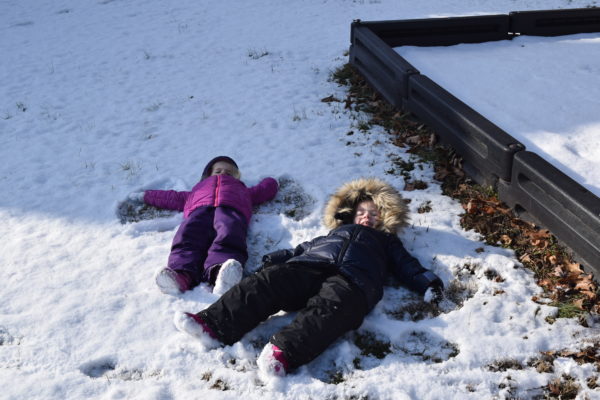 Parents welcome in the classroom. Is your child having a rough morning? Stay for awhile. Do you have something to share? Let us know.
Children exploring and following their interests.
Musical instruments always available to the children.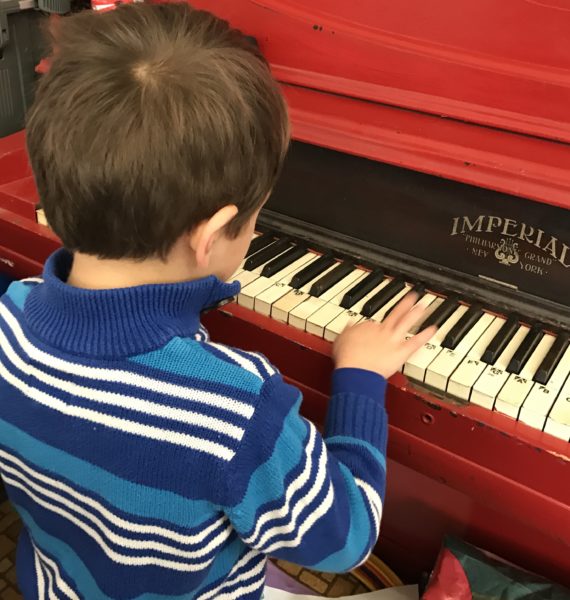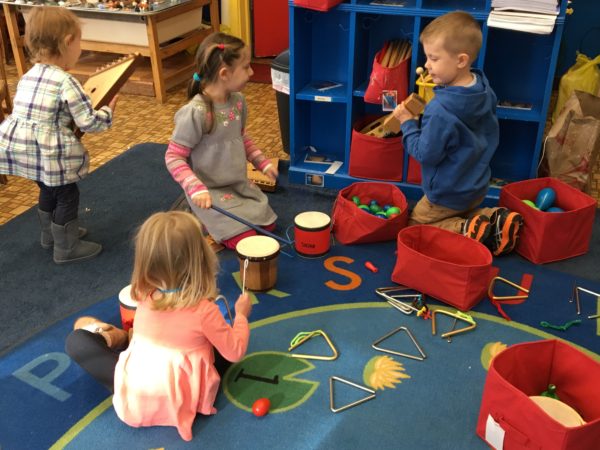 Field trips. Apple picking, a farm, a grocery store, walking to the Post Office, the Rescue Squad, and being visited by the Rocky Hill Firefighters are all highlights.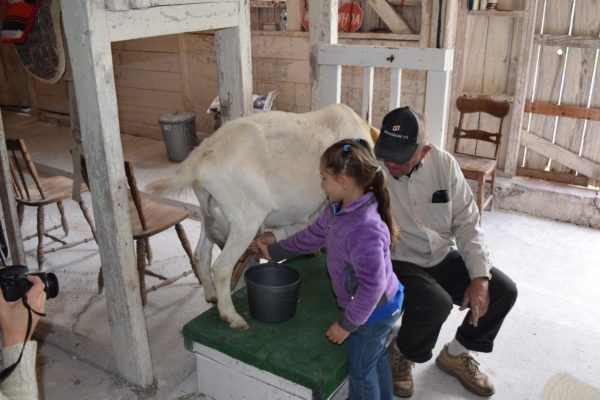 Questions to ask other preschools to see how we compare:
Are parents welcome in the classroom anytime?
Do you use worksheets? How often?
Do you go outside EVERYDAY? What conditions will prevent you from going outside? Mud? Snow?
Are all of your teachers certified? What type of certification?
Will my child get to follow his/her interests during the day?
Do you go on field trips? How many? How does it relate to your curriculum?
What is the most important thing that you want students to learn before they leave?
Letter and numeral recognition are developmental skills, just like crawling and walking. While we do address these skills, we also want our children to know that they are a part of a supportive family and community. We want them to be able to work cooperatively and learn some techniques for conflict resolution. We want them to be thinkers, to realize that there are so many possibilities. We want them to have the courage to explore.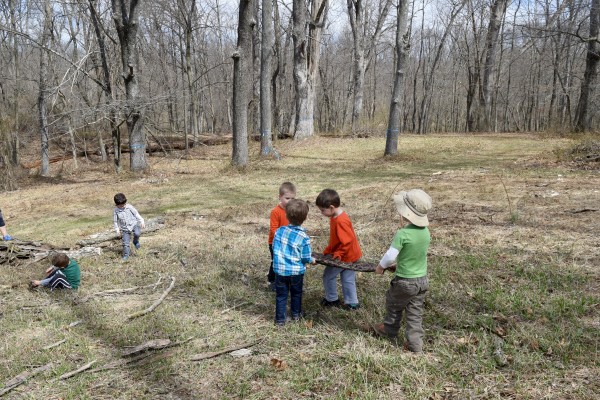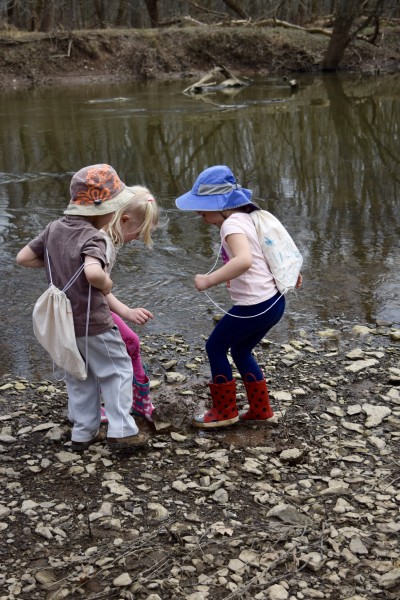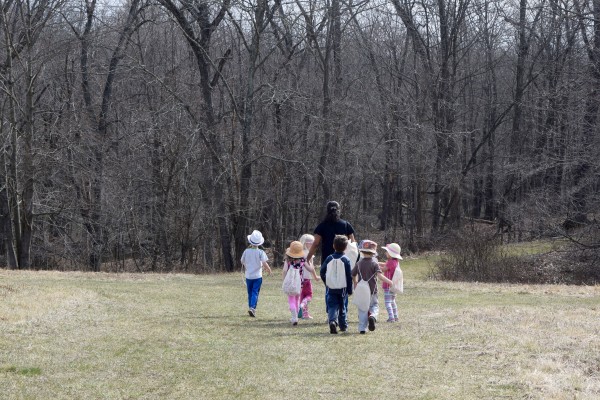 One amazing fact. I am the FOURTH Director in FIFTY-SEVEN years! Many of our teachers have been former helping parents. We love this school. We're about family. The most important thing about choosing a preschool is if it's a good fit for you family. Trust your "gut." We may be the right fit for you, we may not be. Come see us at Open House (February 11, 2017 from 10-1. Free Music Together class at 10:30 AM.) More importantly, make an appointment to visit with your child during class time.
Comments Off

on Things That You Will Not See at Rocky Hill Co-op