First of all, we've had to say a fond farewell or our wonderful assistant, Mrs. Lisa Stock.  She and her family have moved to Colorado.  She will be missed!
Fortunately, we have another former helping parent (we really like this place, some of us come back for more!) Randi Kydonieus will be joining us this year!
Mrs. Randi Kydonieus (Assistant Teacher) received her BA in Elementary Education from Rowan University. After college, Randi taught kindergarten for two years at Kiddie Academy in Freehold, NJ. She then began working at Creative Learning Center, a private school in Shrewsbury, NJ. She remained there for the next 9 years where she taught preschool, kindergarten, first grade, and was the Assistant Director of the learning center. After giving birth to her first child, she decided to stay home and raise her children. Both of Randi's children attended RHCNS and she was able to work in the classroom then, as helping parent. Now that both of her children are in elementary school full time, she has decided to come back to the RHCNS classroom, this time as an Assistant Teacher. She adores children, the way their minds work, and how enamored they become with learning about the world around them. Her passion and excitement for what she does is contagious!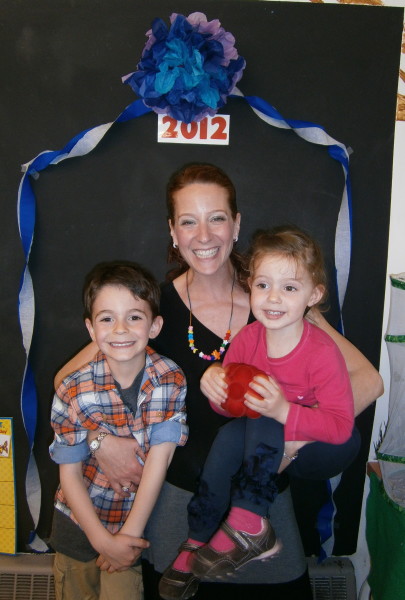 Also new for this year: Bi-monthly trips to Mary Jacobs Library! The library is just a short walk for us, and since all enrolled families are eligible for library membership, this will be a wonderful opportunity for the children to get even more exposure to books, take out their own books, and even at times have story time with a librarian!
We are reaching out to others in the community in addition to the firefighters, rescue squad and State Police officers.  I can't reveal the plans yet, but stay tuned!
One of the amazing things about this area in which we live, there are so many wonderful opportunities for children to learn about their world with first hand experiences!  We like to take advantage of what's available to us. The best part?  Parents have input!  Do you have an idea for us?  Let's hear it! Do you have a special job or talent?  When my son attended, there was a dad who made prosthetic arms and legs, and brought them in to show the children!
Family, Community, and Exploration.  That's Rocky Hill Co-op!
Comments Off

on What's New for the 2015-2016 School Year?